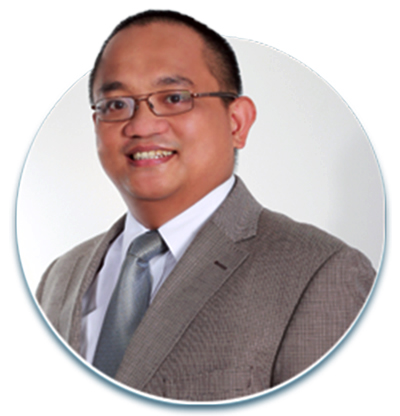 Guests: Pargad Biteng
Presenter: Henry Acosta
Guest Bio: Pargad "Jack" Biteng, Chairman of Fountainhead Technologies, Inc. earned his bachelor's degree from the University of the Philippines and an MBA from the University of Chicago. He was put on hold his studies in PhD in Economics at the London School of Economics in order to focus on running Fountainhead Technologies, a company he and some friends founded in 2001. His background included several roles such as programming, sales and service delivery.
Segment overview: Fountainhead Technologies, Inc. was established in 2001. The company is a Tier 1 Gold Partner of Oracle Corporation with specialization in the installation and management of the Oracle E-Business Suite, the most comprehensive suite of integrated, global business applications enabling organizations to make better decisions, reduce costs, and increase performance. Fountainhead primarily focuses on delivering Enterprise Solutions and Oracle E-Business Suite implementation and support.
Their Oracle Certified Professional consultants bring with them an average of 10 years extensive business and technical experience acquired from deployment of complex business applications based on leading practices and standards from various industries in Asia, Australia, Europe, and North America. This allows Fountainhead to maintain seamless end-to-end service while dealing with multiple clients.
Address: Unit 1100, 88 Corporate Center, Sedeno Street, corner Valero Street, Salcedo Village, Makati, 1227 Metro Manila

Contact Number: LOCAL (+63) 2 908 2546
To know more about Fountainhead Technologies, Inc., listen to the podcast below.
The interview will start at 48:10 mark of the podcast episode.
Transcript
Henry Acosta:  Hello, I'm Henry Acosta and welcome to the Outsourcing and Offshoring in the Philippines Podcast. Today our guest is Pargad Biteng, he goes by the nickname of Jack. Jack graduated from the University of the Philippines and earned his MBA in the University of Chicago. In 2001, he and his friends founded Fountainhead Technologies. He has put on hold his studies in PhD at the London School of Economics to run Fountainhead Technologies. Today we're here to talk about Fountainhead Technologies and Outsourcing seen here in the Philippines. Hi Jack, welcome to the show. Pleasure to have you on board.
Pargad Biteng:  Thank you, my pleasure. Thank you for having me.
Henry Acosta:  Can you give us a quick introduction about who you are and what you do for Fountainhead Technologies?
Pargad Biteng:  So my name is Jack. I'm the founder of Fountainhead Technologies, currently I act as the Chairman and Chief Operating Officer. So the company, Fountainhead Technologies is the largest ERP, local ERP partner in the Philippines. So we do  ERP business locally in the Philippines, at the same time, we do provide outsourcing services for ERP outside of the Philippines. ERP is basically Enterprise Resource Planning it's focused on the, that refers to the accounting systems, the logistic systems, the manufacturing systems, the human resource systems that are used by large companies so that is the thing that we do.
Henry Acosta:  What inspired you to getting the idea of building the business or outsourcing business here in the Philippines?
Pargad Biteng: I've noticed that, that is one of the skills of Filipinos. A lot of Filipinos go out of the country to look for work, accountant, programmers, varied specialists, but at the same time I noticed that they can do the same specialist can do the same job while in the Philippines. Over the years technology has allowed the things like these to happen so right now we are providing employment for skilled people to do skilled work for foreign customers while they are in the Philippines. And I think that is a trend that is happening right now in the Philippines and I think that is something that is sustainable and even now, decades after it has begun I think it still a boom industry here locally.
Henry Acosta:  What do you think makes Fountainhead Technologies different from other ERP agencies out here in the Philippines?
Pargad Biteng:  So we have the skills and the processes that is required. So our experience is that 100% of our customers are happy. So we try to prioritize the satisfaction of our customers, sometimes that we'll take a hit on revenue just to make the customers satisfied and I think that is the that something, that is source of perspective is something that is world class, so our management is imposed in the standard of the western world. So we try to bring this here in the Philippines and I think that is something that the customers appreciate.
Henry Acosta:  So let's say I'm studying out here in the Philippines or looking for someone to outsource with, what would be your best advice to me with regards to outsourcing here in the Philippines?
Pargad Biteng: My advice to customers looking to outsource here is that one of the biggest problem that outsourcing customers usually encounter is communication. So one of my advice is that the customers should talk to their potential outsourcing vendors and they should judge who they communicate this with. Sometimes we can call these, who they feel a good chemistry with, who they feel comfortable with, those are the notions that they can have but at its core, it's communication because skills-wise, I think a lot of the people are skilled but the problems being physically located apart from each other that communication is something that has to be focused on. So that is usually what I hear a lot from the customers as well. Sometimes they say something and they think that the vendor has understood it but apparently he did not and if I may digress, one of the most common comments that I hear from companies that are moving their outsourcing operations from India to the Philippines is ease of communication. So basically, they say that the Philippine vendors are mostly easier to communicate with than Indian vendors. Of course I'm generalizing but that is the, that is a lot of the comments of the year so that is one of my advice, basically communication.
Henry Acosta:  Can you say that the businesses or the plans have grown since they started working with Fountainhead Technologies and can you share with us any stories from them?
Pargad Biteng:  What happens with us is that we do a project with our client and then after a year or so they ask us "Hey, we bought another company, can you support the same ERP for these guys?" So it has happened to us like that so clients have actually grown and they've acquired companies, they've started new sister companies and things like that. It makes it easier for them to do that if they know that their back office operations for example their accounting, their logistics, their manufacturing systems are supported them properly. So it has happened a lot for us, so we have several examples wherein customers are giving us work for one of their legal entities and then over the years it has reached to like 60 legal entities, it's a conglomerate member companies, something like that … So I think that is the one thing, is that we can help them grow physically, we can help them grow, we can help in their scale, we can provide skills for them so that there is something that they will have to think of…
Henry Acosta:  What are the common misconceptions that clients usually ask about the Philippines when they're starting outsourcing here?
Pargad Biteng:  When we have new customers, when we have new prospects, not yet customers but prospects, one of the things that we asked them is that, 'Come visit the Philippines.' We asked them to come and visit the Philippines physically. And of the reasons we do that is for them to see what the Philippines and then vanish some of their misconceptions that they have. For example, a lot of the decision-makers think of the Philippines is some sort of a backward country. It's some sort of the not a very good country, some sort of a something that they doubt if they can trust. So if they come here, our office in Makati, they see that Makati is a physically equipped place, they see that BGC is a physically equipped place, infrastructure is good, the people are smart and sharp and everything and then a most response is that, 'Oh, I never realized that the Philippines is like that and I never realized that Makati is like that," because they say, for example we have customers in Texas, customers in Ohio, in Indiana, and they say that Makati is even better. I mean the buildings are taller, the infrastructure is better and some of their locations and if they did not visit the Philippines physically they would not have seen that. So I think that's one of the misconceptions about the Philippines and Filipinos that we are not as sharp as we are, we are not as ready as we are, but we are. That's why I also tell the other vendors that are looking for outsourcing customers that you have to ask them to come. It will change their perspective on who who we are and what the Philippines is.
Henry Acosta:  And for anyone who wants to know more and get in touch with you, how can they reach Fountainhead Technologies and where they can find your physical location?
Pargad Biteng:  They can go to our website and contact us thru there. That is basically, fountainheadtechnologies.com, that's quite long but its fountainheadtechnologies.com. They can contact us from there and we can give or start a conversation from that. Physically, we have our locations in Makati as well as in U.P. Ayala Technohub in the North, in Quezon City. So that is our two locations Makati and U.P. Ayala Technohub.
Henry Acosta:  And that's all our questions for today. Thank you for being on the show Jack, it was a pleasure talking to you.
Pargad Biteng:  Thank you very much. It was nice.
Henry Acosta:  And that was Pargad 'Jack' Biteng. Jack is the Chairman and the CEO of Fountainhead Technologies. He founded the company back in 2011 with his friends. We just finished talking about Fountainhead Technologies and Outsourcing here in the Philippines. If you want to listen to this podcast go on www.offshoring.com.ph. You can also find us on iTunes and soundcloud.